Work lunch-spiration!
This article was first published at https://nadialim.com/make-healthy-work-snacks/ by Nadia Lim. 
During the work week, bringing a packed lunch and snacks can save your dollars and waistline by providing an alternative to the vending machine or greasy fast food outlet. I like to base lunch around at least two servings of vegetables, one serving of complex carbohydrates for long-lasting energy and a serving of protein to keep you going until dinner time and avoiding the 3pm slump when you feel like grabbing something sweet! Nadia Lim shares her work lunch-spiration…
Avocado, tomato and basil on toast – bring your ingredients with you and assemble at work
Salmon, avocado and caper bagel – bring your ingredients with you and assemble at work, serve with a handful of salad leaves
Asian salad wraps – use leftover chicken or steak, bring the dressing separately and toss with salad just before eating
Mango and avocado smoked chicken salad – use smoked chicken or leftover cooked chicken, bring the dressing separately and toss with salad just before eating
Hummus or other dips with vegetable crudités and pita bread – Use store-bought hummus or dips, or make your own with these recipes.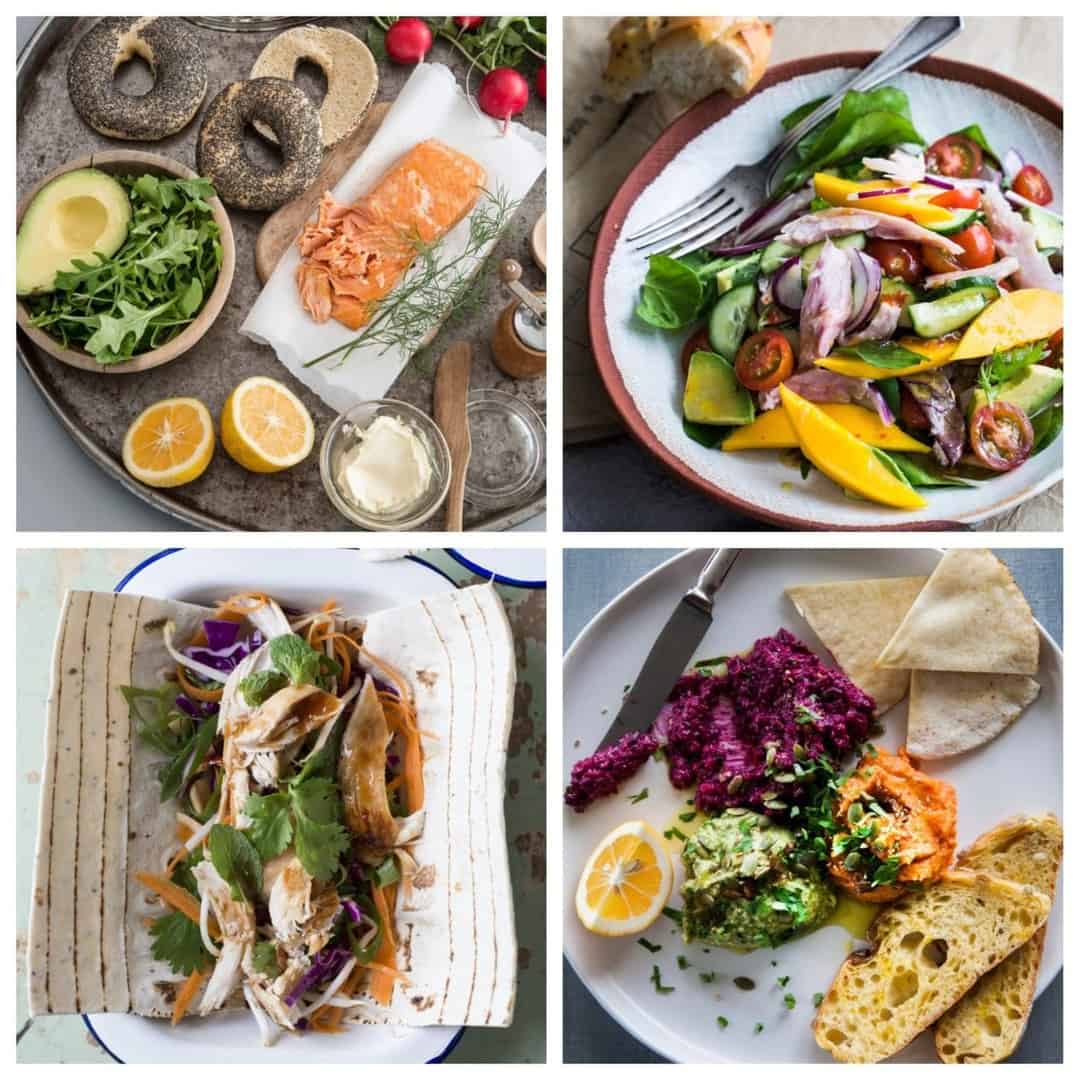 A pottle of yoghurt topped with a dollop of nut butter
A piece of fresh fruit and a small handful of nuts
A milkshake, protein shake or smoothie – I've got plenty of smoothie recipes here
A healthy muffin – When hunger pangs strike, you can't go wrong with a high fibre and flavour muffin! Here's a great recipe and they freeze well.
One of my chocolate chickpea cookies – don't judge until you try! These high protein, low-calorie sweet treats are incredibly popular and surprisingly delicious! Chickpeas make a surprisingly good alternative to normal flour and give these cookies a nutritious boost
A bliss ball – are a great thing to make a big batch of on a Sunday. They'll last ages in the fridge and easily satisfy chocolate cravings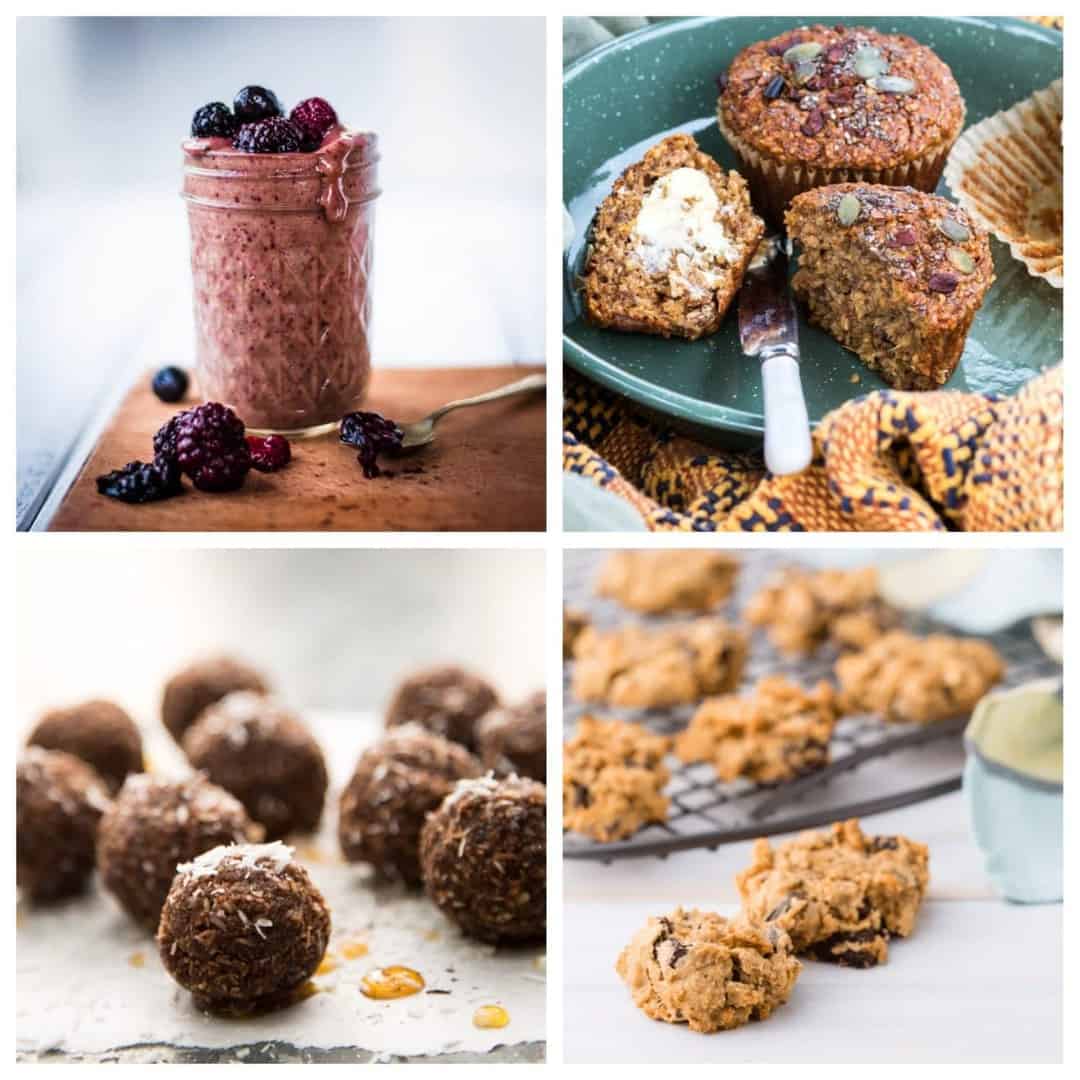 Get outside to have your lunch – getting up from your desk will mean you get your blood pumping and getting outside will give you some very important vitamin D and fresh air – you'll come back feeling way better and more productive.
If your colleagues are up for having healthy, delicious lunches every day too – you could take turns cooking and bringing lunch for a group of you (like soup, a big hearty salad, curry and rice, fresh wraps or bread rolls with yummy fillings etc) and maybe treat yourselves to lunch out on a Friday – it's what I used to do at my workplace!
Make sure you've always got a big bottle of water with you. Or make sure you get up and grab a glass of water every hour.
Use leftovers – roast some extra vegetables or set aside some cooked meat to form the base of your lunchbox the next day.
Batch-cook and freeze – so all you've gotta do is grab something from the freezer before you leave the front door.
Eat at your desk – eating at your desk, whilst distracted by paperwork and emails, encourages mindless eating and overeating, plus you won't feel like you've had a proper break (and you won't be as productive!)
Dress your salad beforehand (or else you'll end up with limp, soggy salad and we don't want that!). Keep your dressing separate in a little glass jar or container, bring it to work (with your separately packed salad) and dress your salad just before you're ready to eat.
Fall into the rut of toast for lunch every day – it doesn't have to be that way.