All the Benefits You'll See After a Facial
With so many new skin treatments and at-home masks on the market, it's hard to work out which ones are best for your particular skin conditions and concerns, and more importantly, which will get you one step further to that glowing celebrity skin! One of our most requested skin treatments is a facial, so if you don't know much about them, read on as we delve into their benefits.
What happens in a facial?
Facials are a way to professionally cleanse and brighten the skin. Your therapist will assess your skin type to work out which products will work best on it, and do a deep cleanse (that you can't DIY at home) to remove bacteria, dirt and dead skin cells. It could also include an "extraction" – clearing your pores of impurities such as blackheads. If you prefer, the treatment can focus on relaxation, with a face massage to stimulate muscles. Next, you'll have nourishing products or a mask applied for hydration, with serums or creams to work on your skin concerns such as acne, hyperpigmentation, aging, uneven skin tone or just dull lacklustre skin.
What will my skin be like afterwards?
All of these techniques and products combined will work to beautify the skin – you'll leave with a natural glow, impurities and dirt removed from pores and rejuvenated skin. A facial is the perfect treatment before an event or holiday, to make sure your skin is looking its absolute best – fresher, younger and cleaner!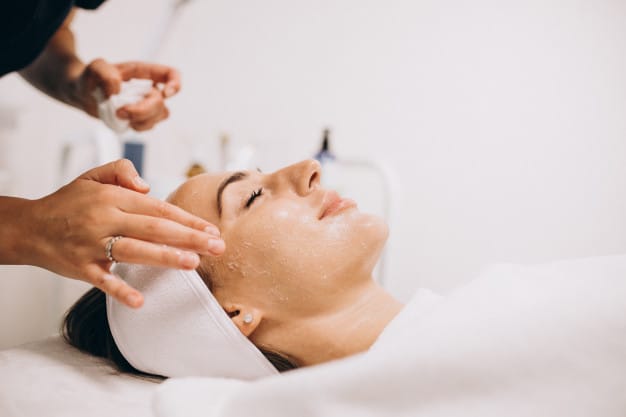 Why do I need facials, and how often do I need them?
Not only will your skin feel amazing, the medical benefits of professionally cleansed skin mean reduced toxins, dirt and grease, and less chance of developing acne and uneven skin tone. It's almost like brushing your teeth daily, but still visiting the dentist for a hygienist clean. Increased blood circulation also means your body will increase new cell production, helping you look younger for longer. We recommend a facial every four to six weeks for optimum results.
Which facial is best for me?
This depends on the experience and results you want. If you're after a treatment to unwind and relax, our unique Mindfulness Facial is an experience like no other – it includes a mediation session whilst your skin is treated to a nourishing mask. If you're after results for skin concerns, try a Fresh Start Facial or a Recharge Facial – both are excellent for starting out on your ultimate skin goals. To take things to the next step, try a personalised peel with medical strength actives for more intense results.
Take a look through our full list of facials and peels here.
Still not sure? Come in and chat to one of our friendly therapists who can help recommend the right treatment for your skin.