Say Hello to Dream Eyebrows with Brow Microblading
Brow Perfection
You may have noticed celebrities (or even people you know) who suddenly have such perfectly full, defined and shaped eyebrows that seem to make their whole face look polished and red carpet worthy, without that fake "drawn in" makeup look over them. How did they manage to grow them out AND get them looking such a perfect shape? Probably with eyebrow microblading.
What is microblading?
Microblading, or "feathered brows" is a form of semi-permanent eyebrow tattooing. But don't panic, we're not talking about a dark line of inked "tattoo makeup" à la Christina Aguilera circa 2002. This is a detailed process where tiny lines of pigment (matched to your perfect hair colour shade) are drawn to replace each elusive eyebrow hair, giving an undetectable and completely natural look. It's basically your ticket to the brows of your dreams, every single day. Whether you were born with sparse, light-coloured or thin brows or they've managed to diminish over years of over-plucking and waxing (again, thank you early 2000's) or even just with age, this is your best bet for beautiful, full brows that frame your face and make you look ultra-groomed 24/7.
How many microblading treatments do I need?
It's best to come in for a consultation initially (this costs $39, but it's redeemable on any treatment), where we'll check that microblading is right for you, discuss the shape and colour you're after and tell you everything you need to know about the process. The treatment is then usually done over two appointments – the initial shaping and microblading, then a touch up appointment six weeks later to ensure colour retention is even and for any minor adjustments to get your perfect shape and colour. Some clients are happy with just their first appointment if the skin has taken the pigment well and they are happy with their colour and shape.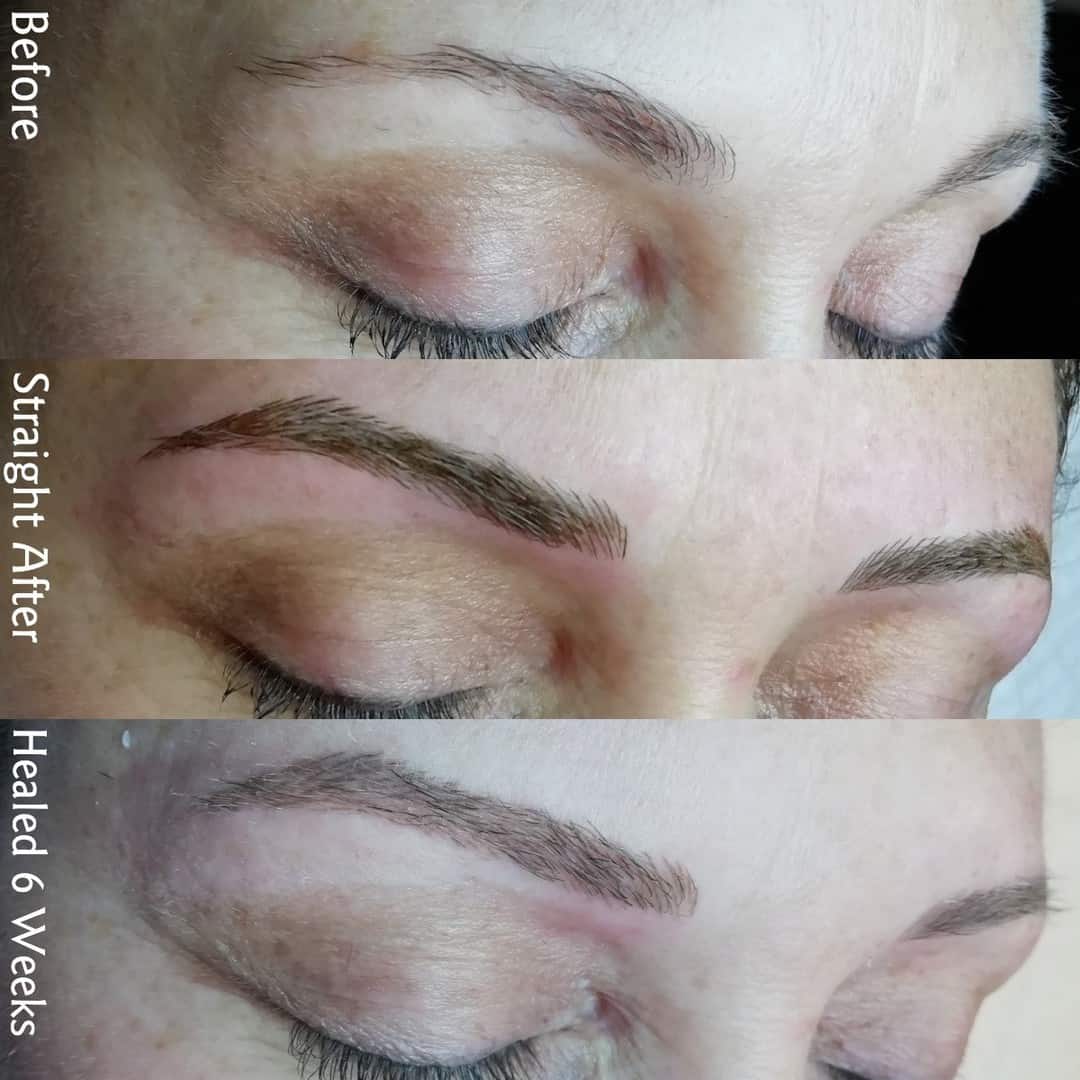 How long will my gorgeous new feathered brows last?
Microbladed brows will usually start to fade within 1 to 3 years after your initial treatment, after which you can get a touch up or get them redone completely. How long they last will usually depend on how you take care of your skin and brows, together with your skin type and how the colour fades. We'll go through everything you need to know for aftercare advice during your initial treatment, to ensure your brows last as long as possible.
Will microblading hurt, and will I need "recovery" time?
Most clients say they don't feel any pain, only that it's a bit uncomfortable at first. This feeling then goes away within a few minutes, as we apply a numbing gel after the initial strokes. Plus, as soon as the fabulous end result is revealed, everyone forgets what it felt like! In terms of downtime, this is minimal, however there will be some simple after-care required (we'll include all this info in a pamphlet). This involves applying the provided ointment to help the skin heal, and trying to keep the brow area dry for a couple days. The brows will also look slightly more defined and darker initially, compared to when they heal after a few days. There also may be some pinkness on the skin surrounding your brows, so it's best not to do it the week of a special event, or right before a holiday where you'd want to swim.
Say goodbye to eyebrow pencils and hello to your dream brows every morning.
To book in a consultation with Bernice or Emma, click here to book online or call 03 355 6400. Your microblading treatment will cost $380, with $120 for a follow-up treatment if you need one.